A project nearly two years in the making, 2019 was a banner year with the launch of our Retreats on Hudson project on Folly Beach, SC.  After the success we had planning, developing and constructing our neighboring multi-group property, Slightly Off Center, it became apparent that we were on to something. After all, our guests had already fallen in love with Folly Beach, and this quaint, quirky beach town, long known as a surfer's hangout, has become the ideal destination for a family beach vacation. With the sounds of ocean waves from nearly every home, families ride their bikes or take golf carts everywhere. This is the south after all, where a friendly wave or nod of the head is given with every person who passes, giving this charming little town a strong family-friendly vibe. With a popular beach pier in the center of it all, home to Fourth of July fireworks and shag-dancing under the moonlight, and beloved Bert's Market on Ashley Avenue, where you can grab groceries, a sandwich or a hotdog and a Coke, 24-hours a day.
Retreats on Hudson was designed In the spirit of Slightly off Center, and the simple concept presented there of designing 4 separate houses all connected by private courtyards and each with a private pool, where guests could share unlimited amounts of fun in the sun with family and friends while everyone truly enjoyed room to spread out.  Homes where everyone got their own bedroom, and for a group of 8, 16 or up to 32 guests, it meant 4 kitchens, 4 living rooms, 12 bathrooms and even 4 sets of washers and dryers!  This sort of compound living offers the best of vacationing together, whether you are all in town for a family reunion, destination wedding, graduation or just a week filled with lots of friends.
Retreats on Hudson provided the opportunity to bring three more new vacation rentals to Folly Beach. Its downtown Folly Beach location means you are in the center of everything but still just an easy 3 block walk to the beach!  Two of the rental homes have been built from the ground up, the third is an existing home that we've completely renovated with all new interiors, including updated kitchen, new appliances, paint, flooring, and comfortable furnishings.
Newly built in 2019 Retreats on Hudson – Coral and ROH – Seagrass are identical beach homes, both designed with fun at the beach in mind.  With bright, coastal interiors, each home features its very own private pool, surrounded by comfortable patio furniture for lounging poolside in the sunshine.  These two homes feature 3 bedrooms and 2.5 bathrooms with plenty of space for guests to spread out and relax.
Newly renovated in 2019 Retreats on Hudson – Driftwood reflects the best of a classic beach bungalow updated with a fresh, modern feel. This spacious and comfortable home has a private pool, loads of outdoor deck space and 2 separate outdoor sitting areas. With 4 bedrooms, and 4 baths plus and an additional den with pullout sofa and second floor media room, this home offers plenty of room for family gathering time.  This chic, coastal bungalow features upgraded interior finishes including granite counters in the kitchen and baths, hardwood flooring throughout, center island with bar seating in the kitchen with stainless steel appliances, and bright, neutral décor.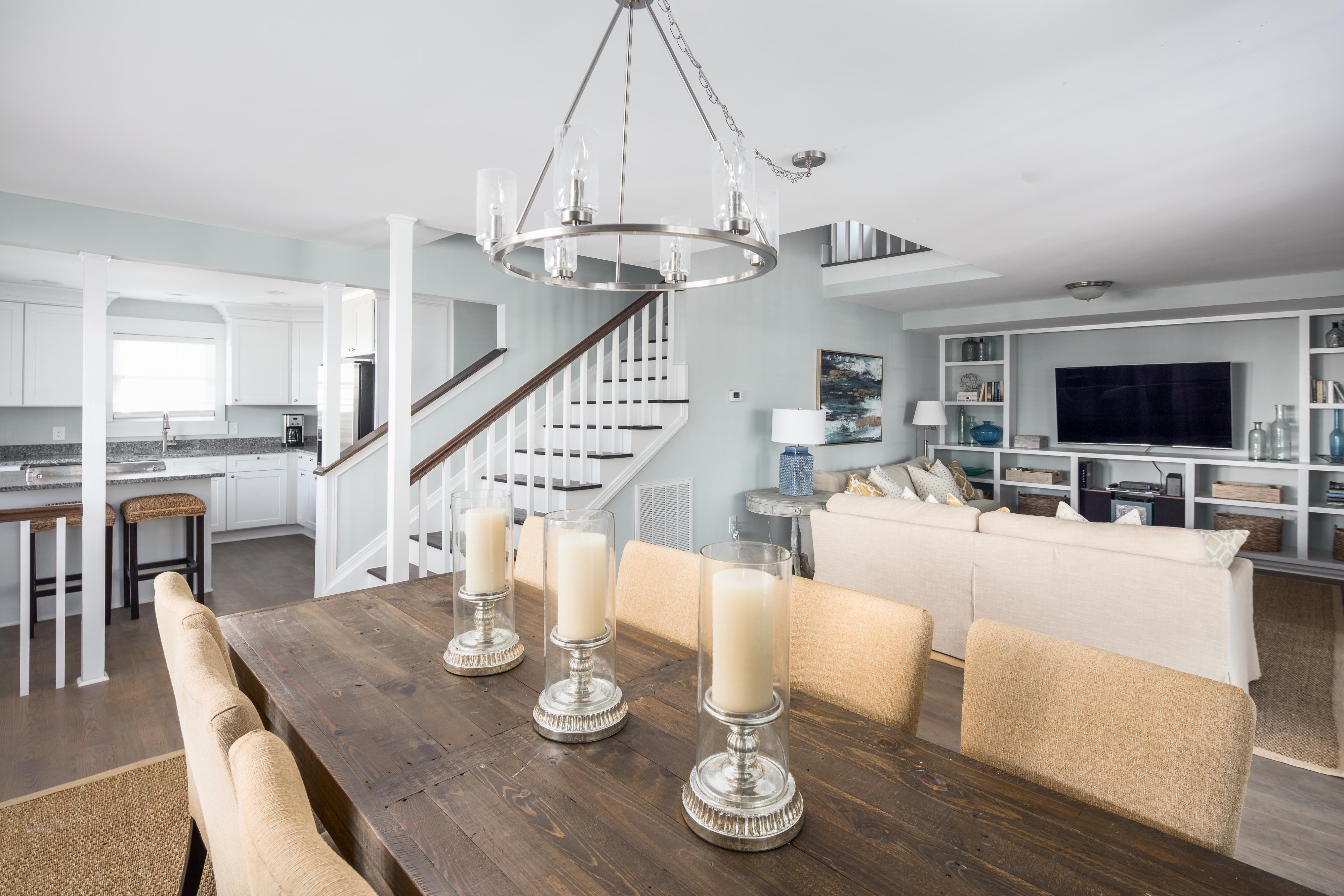 From the covered outdoor porch, with dining table and comfortable seating, you'll step in to an open floor plan with expansive living room, dining room, and kitchen, plus a separate den, which means that there is plenty of room for everyone. The dining table seats 8 with 2 additional spots nearby at the kitchen island, and doors that open onto a cozy side porch. Heading up to the second level, you'll find a second-floor media room with flat screen tv, a perfect spot for puzzles, games or reading. Grilling out and beach days go hand in hand. Don't worry; we have you covered with your own private grill located just outside the front door.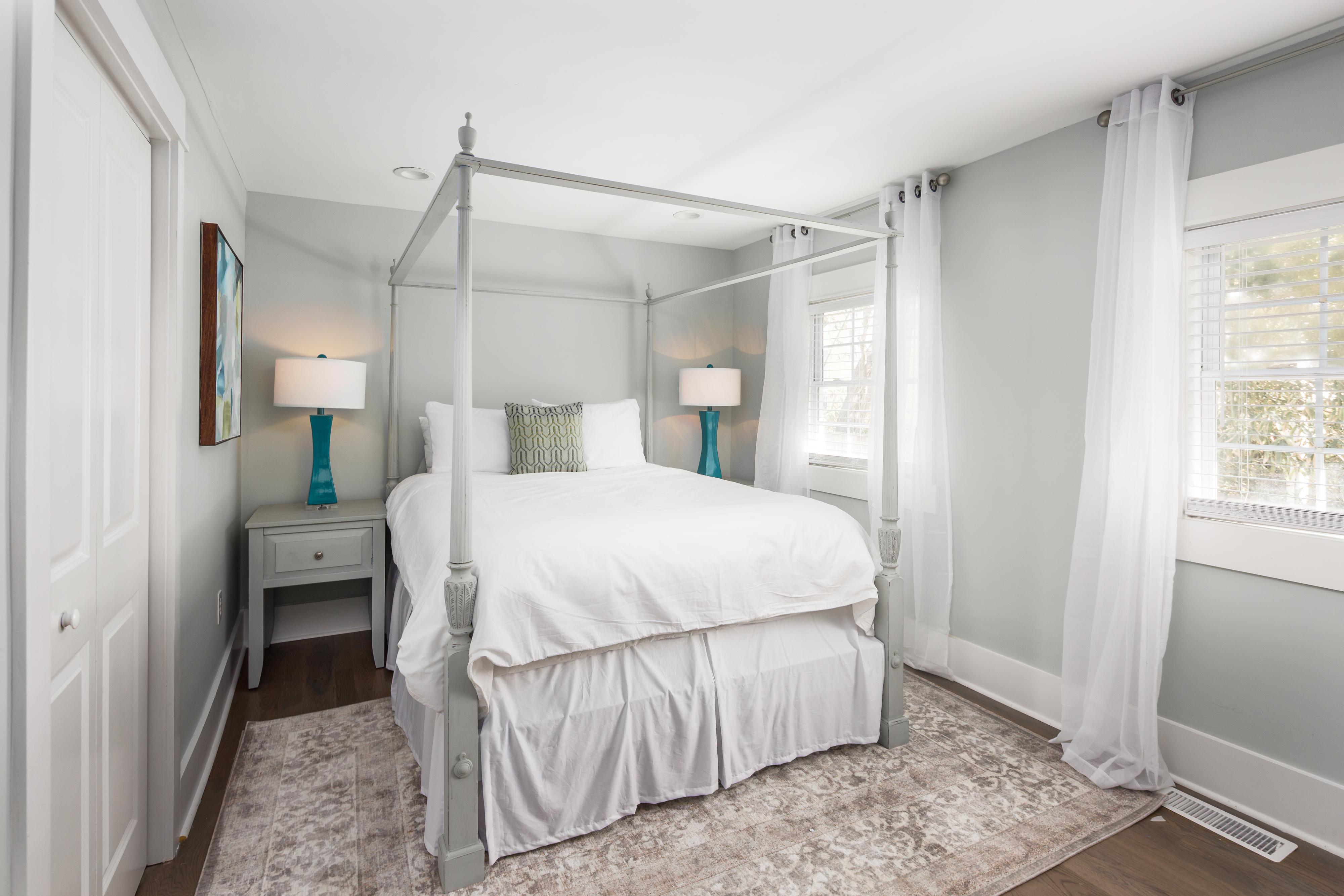 Near the corner where Center Street meets Hudson Street, the location of Retreats on Hudson really can't be beat.  Directly across the street from the new Lowlife Bar, and steps from Center Street, home to Woody's Pizza, Jack of Cups Saloon, Taco Boy, Snapper Jack's, and Rita's Seaside Grille, among others. Just blocks from the beach, it's an easy walk down the beach access trail to the sandy shores of Folly Beach.
Vacationing with a larger group? Retreats on Hudson Coral + Seagrass + Driftwood make the ideal vacation getaway for groups of up to 22 guests. The homes can be booked separately or together making them the perfect venue for your next big event. Large combined yard space can be tented for a ceremony, reception, or party.  Under the care of our dedicated Concierge team you'll enjoy all the same great amenities offered within the Luxury Simplified Retreats portfolio plus exceptional service, impeccable cleanliness and all the conveniences of an everyday home. And, should you need any recommendations during your stay, our team is happy to provide suggestions for restaurants or answer any questions so you don't have to worry about anything – except for packing the sunscreen!